A small garden, or a small patio space within your garden, can be a hassle if you aren't prepared for it. Whether you are wanting to contain your outdoor furniture to a small area or just have a small garden that needs space-saving furniture sets, there can be a lot of options for how your design will evolve as you start planning things out. However, even the best plan can sometimes be faulty and being able to improvise or adapt your furniture ideas can help more than you might think.
Here are some garden furniture ideas for small spaces, as well as tips on how to make them all fit together and what kind of garden space inspiration idea you might come up with.
Always try your best when you set up garden furniture. The ideas you have for a garden space are only as good as your ability to put them together: if you set up a garden table or home bench wrong, it can cause serious problems and might even injure somebody. Start off with the easiest and most realistic ideas, then branch out as you get better at home improvement or DIY.
One of the most common pieces of outdoor furniture to find in a small garden is seating of some kind, whether it is a bench, an outdoor sofa, a series of chairs, or just some stools and other assorted things that you can sit down on. Finding something perfect for small gardens requires a lot of careful thought since you also need room to actually use it properly and stay comfortable during the summer months.
Benches are a practical solution in smaller spaces if you only need a single seat for up to about four people at most, removing the need for individual chairs and letting you get some outdoor seating in your home that is easy to access and relatively space-saving. However, benches can also be very static and aren't always that comfortable without cushions, so you will have to decide on whether you value being able to move the bench later on or not. Remember that benches can be wood, metal, and sometimes resin or plastic: there is quite a lot of variety, so buy one that you will enjoy having.
Smaller benches might only be able to fit one or two people comfortably, whereas larger ones could be three or more. Choose the right one for your space at the time, and if you need a larger one, find a smaller bench or stool to place next to it.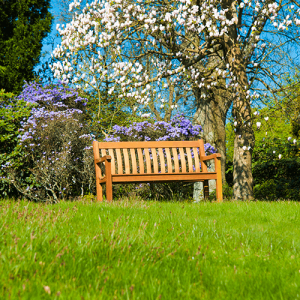 Individual chairs seats can be moved quite easily. This can be the trade-off for having them in small gardens: they are far more mobile and easier to adjust as a chair, but you also need a way to put them to one side if you want the space to be clear. Some chairs might be adjustable or come in multiple metal pieces, but others could be a solid metal or wood design that you will just have to stack up when you are storing them away.
The smaller a chair is, the less comfortable it can be for larger people, so be careful to account for who will be using it. A larger person can already feel uncomfortable in a smaller space, so giving them a smaller chair can be irritating and might make it hard for them to sit in the small space properly. You can buy individual chairs from almost any shop, so there is nothing wrong with multiple shop trips to get extras when you need them.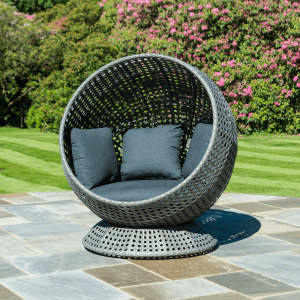 Outdoor sofas can be the exact opposite of a bench or individual chair, especially if they are corner seats that slot up against a 90-degree wall. These are usually big, bulky, and heavy, but are also the most comfortable and can often be great for large groups of people – some designs even have tables built into them or footrests that can pop out as needed. The number of people that a sofa needs to seat can also matter since this will drastically change the size, space usage, and how it will look in small spaces.
Getting a sofa from a shop can be time-consuming, and you might need to have it delivered from the shop or place you bought it. It might also take a lot of time to get it in the right place in your home garden.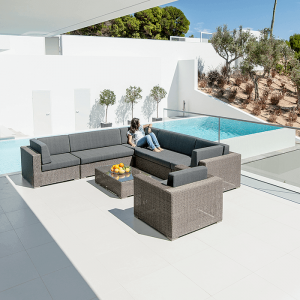 Tables are as important as chairs when it comes to getting garden furniture set up, and in a small garden, side tables or dining tables need to be the perfect size to work well. If you plan to use them often and for long periods of time, then your table can become even more important, especially if the outdoor space is specifically being made for dining purposes when you have friends and family over in the summer months.
Side tables are a perfect way to get a new surface without eating up too much space and usually slot nicely up against seating of all kinds. They are easy to use for holding things like drinks and books, but are also fairly small, making them a good space-saving measure for balconies and small garden areas. However, they don't have much space to hold items, and they are often quite short, so they are low to the ground.
A Bistro set is an easy way to get everything you might need in terms of basic outdoor furniture, acting as a dining set (usually for two people). You get two chairs and a matching table, occasionally with some other extra feature like a built-in light or some softer cushions, which can make it the perfect option for people who need new outdoor furniture in a hurry. Bistro sets can also be relatively cheap and are always matching, so you end up with a consistent style.
Trying to choose between Bistro sets is the same as with any other furniture: the prices and designs of Bistro sets can vary quite heavily between each make and style, so feel free to look around at different Bistro options yourself. If you need to, you can also create your own Bistro set by buying the outdoor furniture separately, meaning that you are not locked into the combinations on offer at an actual shop.
A proper dining table can be a perfect addition to an outside dining area, but you still have to be wary of the outside space-saving features you might need. Indoor furniture used outside can work in the short-term, but a larger table won't always fit on balconies or in small gardens. Small spaces might require individual dining table designs that can be pushed together or a tall storage box that will double as a small table. If you can't get an actual table for your patio or balcony, then try to find something you can use as the best available stand-in.
Remember that you will usually be covering the garden table with a tablecloth, regardless of whether it is modern or old. This means that you don't have to buy an ultra-modern garden table, and you can choose almost anything as long as you are covering the surface up. Just remember to choose a sturdy table, since you don't want it to collapse from excess weight and scatter things across the open space before you have time to stop it.
Choosing furniture for small gardens can also be a good opportunity to clear and tidy up the garden, especially if you want it to look less messy despite using it frequently. The best way to make a small space feel bigger is by removing the clutter that piles up there.
Furniture with more than one purpose is perfect for small gardens, letting you save space without having to actually remove something from the layout. One of the best examples is small benches that come with built-in tables or a built-in bench that sits on the side of a tool storage chest: in a smaller outdoor space, you want to make sure that you are not taking up too much room while also keeping everything important safe, secure, and within reach. Some garden tables are even designed to fit together into a dining table but can be pulled apart when you want to keep the seating separate.
It is easy for a furniture design to be impractical in small spaces, even an outdoor space. Take some time to figure out the actual size you have available first, rather than buying something that might end up being slightly too big.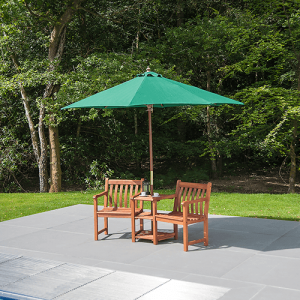 Decluttering with Storage Benches
You might decide to get a chair or bench that has a storage option as the entire base. This gives you a place to store away things that need to be outside but not visible, like watering cans or spare gear that you only use during bad weather, and removes a lot of the clutter from the area. Less clutter can create a more open outdoor space and can make small gardens look much more open as a result.
You can even keep some garden accessories in there so that you have a way to decorate the space quickly. You can create a lot of interesting ideas when you have a way to tidy up quickly.
There are a lot of ways to get inspired by your garden furniture ideas for small spaces, and there might be plenty of ways to get space-saving small garden furniture that also feeds into your preferred style. You also don't need to worry about all-rights-reserved warnings: ideas aren't something a company can slap "all rights reserved" on and stop you from using them.
Summer is an excuse to get brighter furniture that brings your small space to life, especially yellows and oranges that you can only really enjoy in the full sunlight. Outside will get hotter, so your outdoor space might need to be kept open, and you might want to set the chairs further away from each other.
Autumn is going to slowly get cooler, so an outdoor small space could end up being far cosier through things like blankets and tightly-packed chair spots. If you have a balcony, you might use it more now that summer is over and the heat isn't as relentless, meaning that you can mess around with the pieces of furniture a little more and not risk them wearing down from the warmth and bright lights.
Summer is an excuse to get brighter furniture that brings your small space to life, especially yellows and oranges that you can only really enjoy in the full sunlight. Outside will get hotter, so your outdoor space might need to be kept open, and you might want to set the chairs further away from each other.
If you want to go outside in winter, then a small space can become a great comfortable spot to watch the snowfall. A balcony or garden patio can be covered over with a temporary roof to keep the snow off your garden furniture, and you might set up portable heating accessories to make sure you stay warm. The bright white now can also offer plenty of inspiration for how you set up your decorations and accessories in a small, warm space.
You can also create a unique small space by turning the outside patio into a room for your garden: using garden furniture and other small garden gear, you can build an outdoor garden space that serves as a garden kitchen, a garden living room, or a small garden study area to add some more functionality to the outdoor parts of your garden. For example, you might put a desk and some writing accessories out on a covered part of the patio, giving you a piece of furniture that you can use to work, study, or relax.
You might also decide to use garden furniture as a way to add more visual style to your garden. Choosing garden furniture ideas based on designs can lead to amazing outside spaces that really let you enjoy your garden, especially if you take inspiration from a single source and keep it consistent when you create the whole outside space.
Not everybody needs full sets of garden furniture. If you enjoy a minimalist approach, keep accessories low and choose smaller garden furniture for your small space until you wind up with an outside area you feel happy in. This can help you avoid cluttering up a small space with new things, and can sometimes promote better use of your patio space or outside garden space by cutting down on the number of things in the area.
Another technique is to use your garden furniture ideas as a way to add a vertical element to the small space, making use of shelves, shop-bought wall accessories and other kinds of decor that draw the eye upwards. If your patio or balcony spaces have an overhanging roof, you can also hang things down in these spaces, which can be a great way to get more light and create a completely different feeling.