Summer may feel like a long ways off, but that is all the more reason to put a bit of time in to prepare your garden. If you put a bit of DIY work in now, you can have the garden space of your dreams prepared by the start of summer.
But home or garden furniture can be expensive. That is where upcycling comes in – it is an easy way to develop a fully furnished garden in a rustic style without breaking the bank. All you need to get started is some basic home tools and a bit of time!
Let's take a look at some DIY projects you could try to use in your home or garden, from simply recycled plant pots to larger pieces of upcycled furniture like a chair or anything else you can think of, made from fully recycled materials and unused items that you might see lying around your home. No matter how new to the world of garden upcycling you might be, there is sure to be something below that will spark your imagination and help you think about upcycling garden furniture.
Upcycling is the process of taking old, worn-out items or materials that you would otherwise throw out or recycled and transforming it into something useful with a bit of creative work. This is a simple concept and one that is becoming increasingly popular at the moment for a number of reasons.
Upcycled products are much cheaper than buying new ones, as well as reducing waste, and there are many upcycling projects that you can try without needing any specialist tools or DIY experience.
What sort of things can you upcycle?
If you are planning on throwing it out, you can probably upcycle it in some way. Materials such as wood and metal are the most common options, but torn clothes can be upcycled into other items of clothing, and old papers can even be upcycled into a covering for other items with a little ingenuity and some varnish. The only limit to what you can upcycle is your imagination!
The best ways to up-cycle old garden furniture
Let us take a look at a few simple ways that you can upcycle garden furniture and create something fresh looking out of old furniture and other old, unused items. Some of these options don't even require a fresh coat of paint colour to get them looking new and refreshed! Let's run through some easy home DIY ideas for outdoor furniture and decoration made from used materials.
Making garden furniture from old pallets
Old wooden pallets are some of the most versatile objects out there for recycling. You can make a range of rustic garden furniture from these, and you are sure to love the results.
Wood pallets are often used to make chairs and table options for bars or cafes, and you can easily make anything from chairs or benches to a table for outdoor use from pallets. They are easy to work with, and depending on what your ideas for your garden style are, you can either give them a fresh coat of paint in the colours of your choice or leave them rustic and raw with a simple coat of varnish to get a rougher, more casual style to your best chairs or table.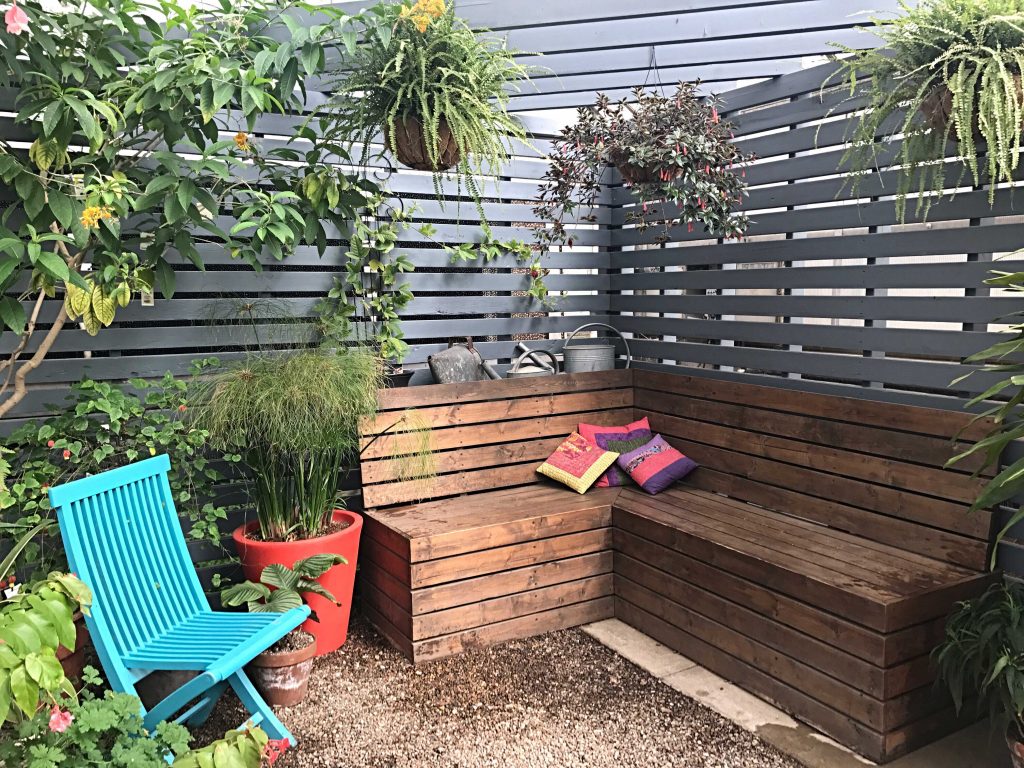 Making raised garden beds from old pallets
Another use for old pallets that you may find useful is as a material to build raised beds for a variety of plants, from flowers to edible plants like herbs and vegetables.
It is easy to see beautiful results that you will love here, using nothing more than some shipping pallets, a hammer, a saw, and some nails. It is even easier than you might think to make classy, affordable raised bed for your plants!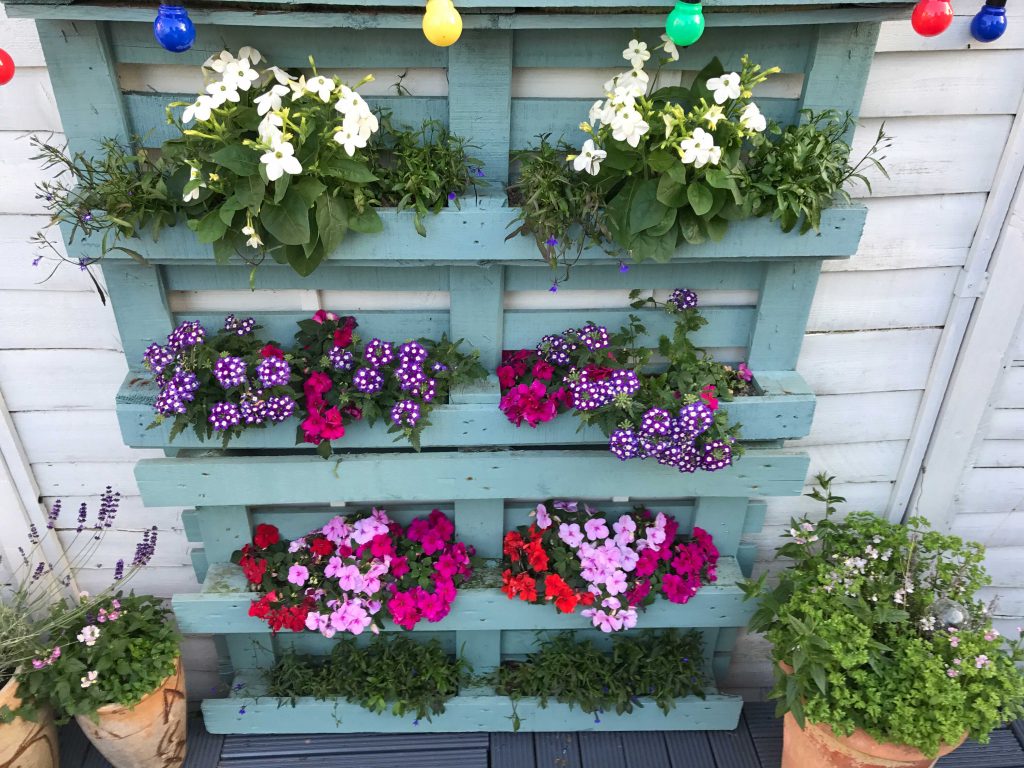 Using old tyres or suitcases for your flower beds
It is not just wooden pallets that make good beds for your plants. For something a bit quirkier and more unique, you could try using an old tyre for planting flowers in. These are a good choice, because the black rubber helps to keep water in, and ensures that the soil warms up as well as possible.
For similar ideas that stand out as being a little bit different, you could also use a suitcase, a sink, or any other large and boxy object that you can easily place outside!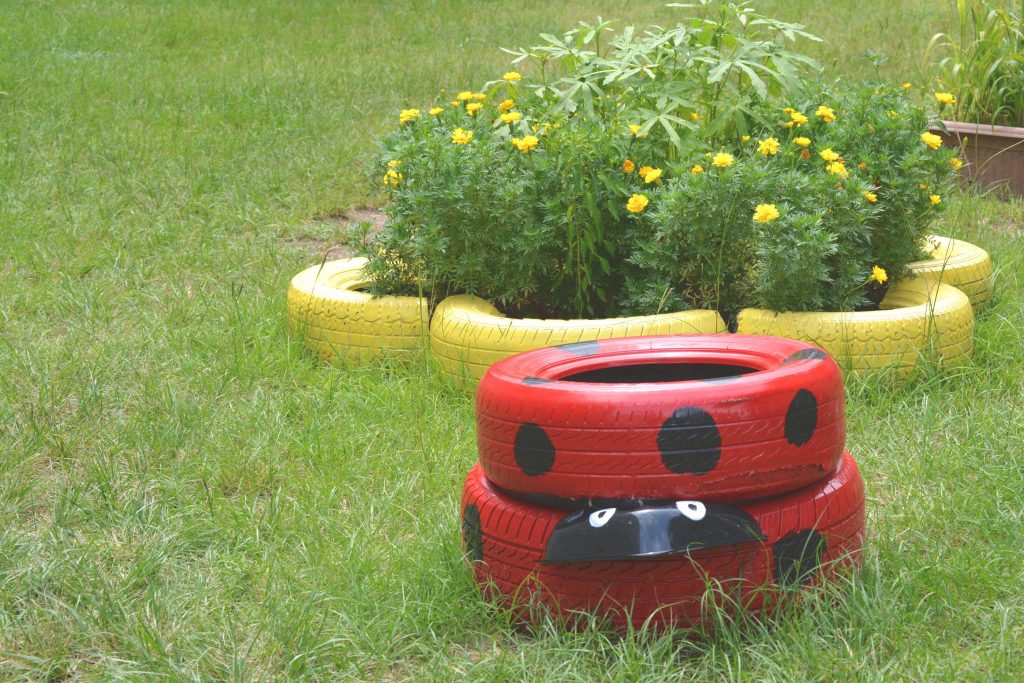 Old boots make great planters
For a smaller project that would look really special in a small garden, old boots make a good choice for planting plants in. All you need for this is a pair of old boots, some soil, and your plants of choice. It is about as easy as a project like this gets, and if you share a garden with neighbours and only have limited space, it is a really fun option that will last you well.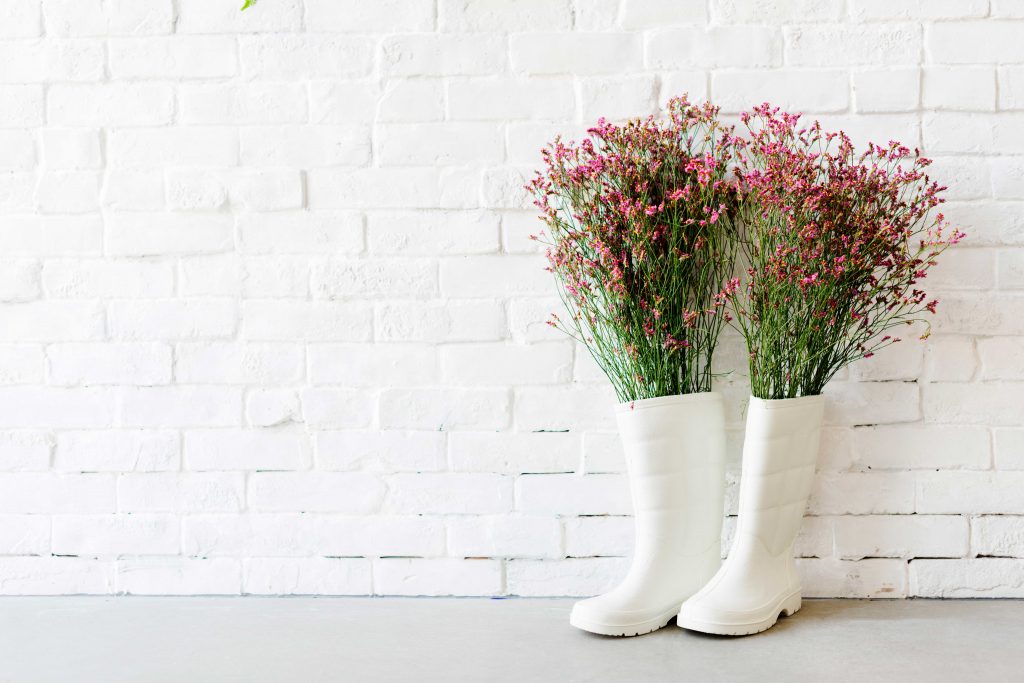 Anything can be a plant pot
Old boots may look great and offer a rustic, quirky style, but not everyone has an old pair of boots lying around. If you want something to plant things in without buying purpose-made plant pots, then don't worry. You can use almost anything as a plant pot, and you probably produce a large amount of waste that could be easily upcycled into unique plant pots.
If it holds some dirt and you can drill some holes in it, then you can upcycle it into a plant pot. The most obvious option here is old empty tins. Wash them and drill a few drainage holes in the bottom. Once you have done that, you have got a perfect plant pot all ready to go!
You don't need to stop there, though. If you have got an old jewellery box, or a small drawer, or any other container that you just like the look of, then all you need to do is drill drainage holes into the bottom in order to create a unique plant pot at next to no cost at all. Plus, it reduces the amount of waste you generate!
Making a garden bar from an old bookcase
If you have got a large patio in your garden, and you spend a lot of time out there, why not try a drink out in the garden? An old antique bookcase makes a great outdoor bar that you can use to store glasses and bottles for convenient patio access. Just make sure it has got a top so that debris doesn't fall into the top of your empty glasses!
Gates and bed headboards: basically the same thing
An old bed headboard makes a good quirky alternative to a garden gate – particularly if it is a metal one because those are built to last. This works the other way round, too. An old garden gate can give a great natural, rustic look to your bedroom if you use it as an alternative to a more traditional headboard!
An old bathtub makes for the perfect outdoor couch or bench. This is a bit more of an involved project than some of the others we have suggested here, but it can look amazing and add some really unique character to your outside spaces. You may need a second person to help with some of this, just to hold things in place and let you focus on cutting neatly.
All you need to do is to cut out one of the long sides of the bath, so it is the shape of a couch. Keep the other three sides, or cut out around part of the short ends to make more of a bench-style piece of furniture. Clean up the edges a bit, add some paint in an attractive colour, and you have got yourself a truly unique and creative garden couch!
All of these ideas, from different chair designs to flower beds, are starting points that you can use to design a beautiful and unique garden to fit whatever style you want. Whether you choose to try all of these options, or only one or two, or even just use these as inspiration to let your imagination run wild, there is sure to be at least one or two ideas in here that can spark your imagination for beautiful, creative garden furniture design that you will love!