Getting your garden ready for summer can be just as important as getting your summer body ready for some of us. Whether you are preparing to hold those summer garden parties or just preparing for a relaxing time in an oasis with a few drinks when the hot weather hits, we have pulled together some of the top things you can do to get your garden ready and please your guests.
1. Furniture will really make a difference.
If you have older garden furniture upcycling this or adding accessories is an excellent way to give it a new lease of life and make sure it is ready for those summer months. If you have painted furniture give it a new lick of paint or change the colour to better suit your choice of accessories.
Once your seating area is ready, make a start on your accessories; adding cushions to chairs is an excellent way to tie in new colour schemes or to make wooden or metal seats more comfortable. A string of delicate fairy lights is another lovely way to improve your garden for those warm summer nights, adding some light to your outdoor space. Thirdly, you could use plants or flowers from your garden to make a nice centrepiece for your garden table; a metal watering can could easily be upcycled into a plant pot with some nice lavender or wildflowers for decoration.
2. Be able to sit in your garden
Making sure you are able to sit out in your garden is really important, once you have your seating area exactly how you want it, you will need to ensure you have a safe place to sit. In the summer months, that means making sure there is enough shade in your outdoor space to ensure you can sit out and enjoy your summer garden without the harmful risks of too much sun exposure.
You might like either a nice big sun parasol or a gazebo that can be put up and taken down easily as and when needed, you can also double these up if it begins to rain so that you can continue to enjoy your summer garden.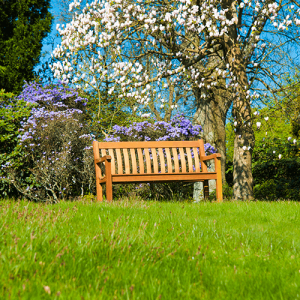 Gardening is a favourite past time for a lot of people as a relaxing hobby, but it is also a very important element of getting your garden ready for summer. We recommend you make sure your lawn is regularly fed and watered throughout the year to ensure that it is of good quality for the summer months so that you do not spend half of your summer repairing the lawn.
We also recommend you get in early with planting so that by summer you have a great range of colours and flowers in your garden. When shopping for plant and flower seeds check the time of year they should be planted and the time of year they will blossom and bloom so that your garden will be blooming in summer.
Gardening can also be a great break from work, whether this is on an evening, tidying a plant pot or two on your lunch if you work from home, or spending the weekend weeding the flowerbeds before settling down to a book and a nice chilled drink. Keeping on top of your garden with regular mowing and checking on your plants will help to prevent problems. Gardening blogs will give you great tips for how and when to feed and water your lawn.
Choosing which plants to include in your garden is another consideration when you are getting your garden ready for summer so that you do not get scents which are overpowering or overwhelming. You might like some nice herbs in your garden, it is nice to have this by the garden furniture, so you get a lovely aroma when sitting on an evening in your outdoor space. Alternatively, having herb plants under your kitchen window will give you easy access to fresh herbs for your cooking and also a lovely aroma for your summer evenings.
When planting to get your garden ready for warm nights make sure you choose plants in your garden that will complement the summer time of year, plants like jasmine will really add to the ambience of your outdoor experience and will give a clean look and smell to your garden. During this time of year, you need to have good placement of your plants so that the outdoor space is good to look at.
Ensure you utilise the area to get the most out of your garden, you do not need to have a large outdoor space to make a relaxing haven for the warm evenings, but you do need to spend the time to make it look good. To do this well, you should use space-saving techniques, you can add hanging baskets to give your garden more life without losing additional grass area. You should also utilise the borders for planting, using the borders for wildflowers is a great way to encourage more wildlife into your garden for little long-term effort. If planting wildflowers in the borders, you will need to keep a check on any other plants, vegetables, or herbs that you have planted to ensure insects do not encroach and ruin them.
You can also easily keep your garden clean by tackling weeds early if you remove weeds quickly and treat the lawn correctly you will not have to spend much time on them. However, if you are using incorrect methods or products to remove weeds, you might see deterioration in your lawn and long-term damage.
Firepits are becoming more popular to keep the evening cosy long after the sun goes down and help you stay relaxed after work or over weekends. You can create a cosy firepit area very easily and without much effort, but you will have to create this safely, especially if you have little children in the garden.
A firepit should be away from wooden structures and fences to ensure sparks cannot cause an out of control fire and should be able to be covered over or stored during winter to avoid damage. You should check the size of the outdoor area you will be using before buying to see what size will be best for the space you have to create a cosy area. A large firepit in a little outdoor space will be overpowering and could make you more uncomfortable. However, a little firepit in a large area would not be best as it will not create the atmosphere you are looking for and may not keep the chill away as the sun goes down.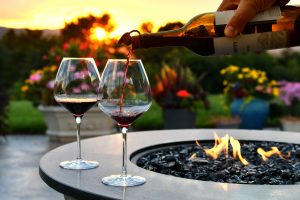 Storage is another important part of utilising your outdoor garden space to the full, you will not want your gardening equipment and spare pots cluttering up the space you are relaxing in at the end of long days, and you will also not want these items exposed to winter weather as it will be costly to replace them in full when winter is over.
The best way to quickly and safely store your gardening equipment is in a shed, rather than bringing them into your home, which could trail soil and dirt through your house. A shed is generally easy to assemble yourself, although most companies now will arrange assembly with a quick call or via email to save you the time and effort. Whereas sheds used to be quite uniform it is now possible to get a shed in almost any colour or size you could possibly want, or there are several companies who will make custom sheds and bases to ensure it fits in with the theme of your garden and really works with what you already have.
If you are struggling for ways to get your garden looking its best you may want to take a quick look at online sources, this could be social media influencers, garden design websites, or blogs. You can sign up with your email address for updates from home and garden sites which do features of home gardens in addition to public gardens. By completing the sign-up process, you will usually be sent a regular email update of new trends or products for garden design, meaning you can sit back and not spend days in garden centres trying to pull something together.
If you use social media, you can find people who have similar tastes to your own, as well as those who have similar garden areas. By utilising the follow option for those who you identify with, you can again receive updates when they post new content. Utilising the follow option is like an email sign up as most social media sites will send an email roundup of pages or users that you sign up to follow, meaning you do not have to go looking for updates.
Water features are an excellent way to get a relaxing ambience into your garden on those warm evenings, you can sit back and listen to the water trickling, running or splashing through the feature giving a clean sound to your evenings. There are so many options you can now use, so whatever sound you are looking for we are confident you can find it. You can often find reviews or demonstrations of water feature models online or in garden centres so you can hear what the sound is before you buy so you know it is something you can regularly use without the pattern of sound becoming irritating. It may be that the feature you choose is a small well which can be used to provide clean water for birds in your local area.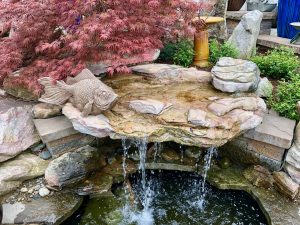 It is important first of all to ensure that your plants and soil are well looked after so that your outdoor area remains somewhere you can relax. There are good tips for how to do this on many websites and you can use your email address to access outdoor gardening advice and tips. Most websites will give links to good products to buy which you can go straight to suppliers for, and buy registered products from partner websites if and when you please. Find our best outdoor furniture http://gardenfurnitureoutlet.co.uk/