When the winter months come, it is important that you take precautions to protect your garden furniture if you want to have it back out in the summer.
If you want your garden furniture to last for years to come, then you should take proper care of it.
This is the ultimate guide to preparing your garden for winter.
What Kind Of Garden Furniture Do You Have?
There are many options when it comes to garden furniture, and the type that you have can determine what steps should be taken to protect it during this season.
You might have wooden garden tables, plastic garden chairs, rattan seating – the options are almost endless nowadays. The type of garden fittings you have determines the level of care and preparation required to help it survive the winter, as some cannot be left outdoors during this season and come back in the same shape they once were.
Some people find it easier to just put their garden items away in storage over the winter months, but we understand that this is not always an option.
Regardless of whether you are going to be putting it into storage or leaving it to brace the elements, there are some things you need to do beforehand to prevent moisture build-up, check for damage, and keep it in a great condition.
The kind of garden items you have will determine the most appropriate treatment to use to prepare it for this season, so make sure to check what kind of material they are made from first.
For example, certain forms of wooden garden furniture should be protected with a specialised wood oil, which will differ based on the kind of wood used.
The type of furniture you have determines how durable and resilient it will be to winter weather, but you still should provide it with some care and attention.
How To Prepare Wooden Furniture
Wooden garden furniture is a common customer option and something most people will have in their garden.
To make sure your wood outdoor items make it through the winter, there are some things you need to do before the winter months approach.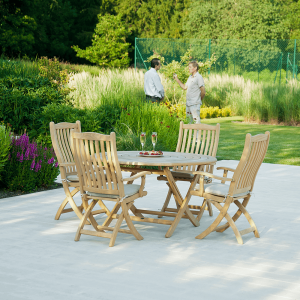 All outdoor wooden furniture should be cleaned at least once a year to keep it in great condition and remove dirt.
Cleaning wooden garden furniture every year will remove any debris, bird droppings, and algae that can collect over the months of outdoor use. Wood benefits greatly from regular care and treatment.
If you are leaving wooden furniture outdoors in the garden during the winter months, cleaning might seem like a pointless task. However, taking the time to care for wooden garden furniture every year is vital if you want it to last a long time.
Without cleaning, it will be easier for dirt to cling onto your wooden furniture, which can result in further decay. Dirt clings well to moisture, which is why you make sure all wooden fittings are dry completely before storing it in the garden shed or garage or leaving it outdoors during this season.
Cleaning your furniture will help it stay dry and protected.
Wooden outdoor furniture should be cleaned with warm, soapy water and a gentle brush. Take time to ensure all debris is removed and allow it to dry completely before storing it or leaving it outdoors during this season.
Using some kind of cover is recommended if you are expecting snow, as this will provide a barrier against moisture for the wood.
The kind of timber used for your wooden outdoor fittings will determine whether it needs a treatment before this season.
Hardwoods, such as teak, oak, acacia, and eucalyptus, do not need any additional treatment beside a good clean with soap and water. However, if you would like to maintain the colour of the wood over time, an annual application of teak oil should preserve it.
Softwoods, like pine, are a slightly different story.
This kind of garden furniture should be treated with some kind of preservative to ensure it will survive a harsh winter. You can use a wood paint or timber oil to preserve softwood and offer it a barrier against decay.
This is the kind of furniture that can benefit the most from a cover if left outdoors in order to see it through this season.
When it comes to treating softwood, do not forget the underneath, legs, back and the bases which are just as exposed to the harsh winter weather as the top.
How to Protect Metal Furniture
Metal furniture requires little treatment to help it survive the winter in your garden.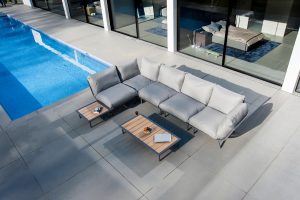 A deep clean every year is a great way to keep metal outdoor furniture protected and in great condition.
Make sure to check the garden furniture for rust spots so you can treat them before they get any worse. You can use warm water and a cloth, using the cloth to gently scrub away the rust spots.
Once the cleaning is done, rinse the soap away with cold water and allow the items to dry fully.
2) Rust Treatment (if required)
Rust spots can be treated with steel wool or a hand sander, depending on the severity.
An additional layer of metal primer and paint can be added to your furniture to keep it in great condition until next summer. A furniture cover might also be a good idea if you experience a lot of cold, icy weather to prevent additional rusting.
How to Protect Plastic Furniture In Winter
Many people have plastic garden furniture because it is affordable, durable and lightweight, making it easy to move around. As plastic is lightweight, you should find no issue moving it to a store space like the shed or garage for the winter, if this is possible.
However, before storing plastic items, a good clean is required, which is the first step for any kind of outdoor furniture.
Plastic garden furniture tends to become very dirty in the garden and can look grubby without regular maintenance. Luckily, it is relatively easy to clean as this can be done using warm soapy water.
A pressure washer can also be used on plastic furniture, however, avoid using anything abrasive on this material.
Once you have washed away all the dirt, rinse the garden furniture well with water and allow it to dry.
White plastic furniture can be bleached to brighten up the colour and improve its appearance.
Other kinds of plastic furniture can be treated with a layer of car wax before going into a store space if you want to bring out the shine.
However, the most important step for plastic furniture is the annual clean.
How to Protect Rattan Furniture
Rattan furniture and wicker furniture are more difficult to prepare for winter because of the close, woven nature of the material. As it is woven in a close pattern, a lot of debris and mould can develop in between and cause issues.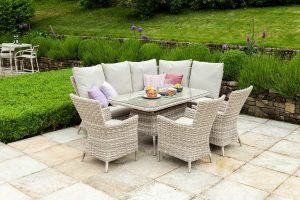 As with all other forms of furniture for outside, the first step is a deep annual clean.
To ensure that everything is removed from rattan or wicker outside furniture, a vacuum cleaner can be used to suck away debris that is caught in the close woven design. Use the soft brush attachment for this process and apply it close to the surface in order to suck out every bit of debris.
Do not forget the back of the furniture, as well as the front and base.
After this, use a soft damp cloth to remove any remaining debris or mould from the surface of rattan furniture. As always, leave the furniture to dry before storage or covering.
Rattan furniture should ideally be stored indoors during the winter, such as in the garage or shed, or at least covered to protect it from the outside elements during these months.
If you do not have the storage space, you should invest in some furniture covers to protect your wicker outside furniture from damage. A cover can offer a barrier of protection against the elements and is a good thing to use if you cannot store this furniture indoors.
A cover will need to be replaced if it has been used during harsh weather, so to give your furniture the best chance this winter please get a new furniture cover.
This kind of furniture cannot be stored outside uncovered all year long. In the summer, this may not cause many issues, but in the winter, serious damage can occur.
Before we close this guide, we cannot forget about any cushions or other decorative pieces you might use outdoors.
Cushions, and their covers, should be brought indoors during the winter. When cleaning the furniture, strip the covers from the cushions and put them in the washing machine.
These soft fabrics should be stored indoors over the winter, as they will not survive the snow and rain. This means you should make room in your garage or shed to store the cushions and covers well, protecting them from moisture all season long.
The first step in caring for any kind of outdoor furniture is a deep clean. Taking the time to remove any debris, mould and other dirt that has gathered over the summer from your furniture will protect it and help it last longer.
Most furniture, whether that is wooden garden furniture or metal, can be cleaned using warm soapy water and a damp cloth. Use the cloth to remove any build-up grime and get your garden furniture looking new again.
Before storing it for the winter, the furniture needs to be completely dry.
The type of furniture you have will determine whether storing indoors or outdoors is important. Most furniture can be left outdoors during the winter, but some form of treatment may be required.
If you are wanting to leave furniture outdoors during the winter, whatever type, then get a new cover to offer a barrier of protection.
For more customer questions, leave a comment with your email address to sign up to our blog.