Having a stunning garden does not have to break the bank, and now is the best time to start planning your outdoor space. It is possible to transform your garden and give it a new lease of life without spending too much money.
There are various ideas out there that you can use on a budget to revamp your garden and make it a bright, inviting space to enjoy in the summer months.
Even the smallest, most cost-effective changes such as re-painting the fence or repurposing some items can bring a new lease of life to your garden.
If you want to create a stunning, bright and fun garden that the whole family can enjoy but are working on a budget, then this is the perfect guide for you. We are going to provide some of the best ideas on a budget, helping you get the garden of your dreams while saving money in the long run.
The Best Gardening Ideas on a Budget
A cheap garden does not have to look cheap, as there are various tricks and hacks that you can use to give your garden a makeover without breaking the bank.
While investing in large pieces like garden furniture or hiring a garden designer can help your outdoor space look great, these actions are not accessible for everyone. Luckily, there are some great garden ideas out there that you can do for very little money.
You will be surprised by how even the smallest garden ideas, such as a lick of paint, can give your garden a new lease of life.
Whether you have a small garden or a couple of acres, you can make the most of this space while being frugal.
Buying seeds to grow in your garden is by far one of the cheapest things you can do in landscaping, but it can make such a difference. You can sow seeds yourself with little to no experience, and you can find a range of plants, flowers, and vegetable seeds very cheap at most supermarkets.
You can grow seeds in a plant pot, planter or create a border around your lawn for planting. Maintenance is required for this step, but as long as you remember to water the plants when required, everything should work out fine.
If you are not sure what kind of plants you need in your garden, simply rely on the image on the packet. The image will show you what the plant should look like, which you can have as a guide when taking care of it.
This is not an instant trick to transform your garden, but rather something you can work on all year to bring some colour to your outdoor area.
It can be a fun activity for all the family to get involved with, making it one of the best garden ideas for family homes.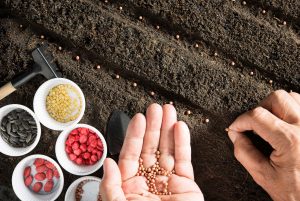 As we have mentioned, you will be surprised to find how much of a difference adding a lick of paint to your garden furniture, fencing or shed can do for the entire area which is why one of the best garden ideas is to buy a cheap tin of paint and see what can be done with it.
There are lots of different options for outdoor paint and wood dyes available, and you don't have to spend a lot of money to get a tin. Changing up the colour of your landscape can really brighten the space and make your garden look lush.
It is important you choose outdoor paint or wood paint when upgrading fencing, the patio or shed because it will be resistant to water. You don't want the paint to run once it starts to rain!
Adding a coating of black paint to fencing and sheds is a good way to bring out the colours already in your garden, and makes what was once dilapidated look chic. Even if the only colour in your backyard comes from the lawn, the black paint will make this area appear more bright and lush.
Black will create a sharp contrast with the green in your garden, making all your plants stand out and appear lusher.
This is one of the cheapest and easiest ideas as it will look good all year long.
Plant pots can be found almost anywhere, at any point in the year and are usually very cheap to buy. These are an excellent way to revamp your garden on a budget, and it can be accustomed to suit any kind of outdoor space.
Using plant pots, or container gardening as it is known, is a very chic way to have foliage in your garden and you can create unique patterns or display designs by being able to move the plants around freely. This is a versatile option, as it allows you to bring colour to even the smallest outdoor spaces. This is also one of the best ideas for gardens with patio spaces or a lot of concrete, but you can also use pots around a lawn.
Not all kinds of plant are suitable to be grown in containers, as they can limit root growth. However, if you water them regularly and use the right compost, you can easily bring some colour to your garden while on a budget through this kind of planting.
You do not need the fanciest pots to do this, and you can try to use something upcycled. There are various tutorials online about how you can use an old plastic bottle or other recycled rubbish to create an attractive plant pot, as you can see from this image.
This is an easy project to undergo and helps you be more sustainable.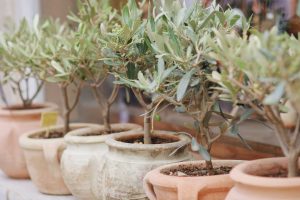 If you are wanting to save money and work with a very tight budget, then upcycling is the best thing to do. It may not be an easy feat for some people, but if you want to get creative, this can be the best garden idea to try.
You can use old furniture, materials, and old wooden pallets to create something for your garden that will revamp the space.
Wooden pallets are a great thing to try and get for your garden, and there are so many DIY ideas that can be done with these. You can create shelving for plants and install some colourful fairy lights.
If you are a creative person, you can really go wild with this idea and try to make anything out of old materials you have available. Some of the best ideas include using old wooden drawers as a unique planter, or adding pots to a set of ladders, or using wooden crates for a small herb garden.
Sometimes, when you are working with a budget spending, nothing is the best idea – which is exactly what you will be doing by using old materials.
This is one of the easiest ways to revamp your garden and bring in some colour.
With hanging baskets and other similar planters, you can grow a range of flowers in your landscape without having to sacrifice floor space. This is a brilliant option for smaller gardens and even those with little to no outdoor space, as it can brighten up your home.
All you need for this step is a hanging planter and some flowers for planting, which you can buy as seeds or already grown for very cheap.
Make sure to water them regularly, and you should have no issues.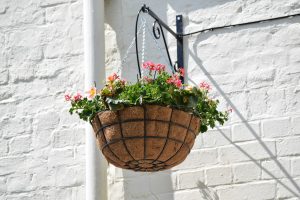 Adding solar-powered lighting into your backyard is a good way to make it look better than it ever has.
There are so many options when it comes to solar-powered lights, which are safe to leave outdoors, and many can be found at very low prices. String lights are a great way to bring some style to your garden, and they can be placed across fencing or over patio areas to brighten it up.
You do not need special landscaping skills to put lights in your garden, as this is a great way to let your creativity shine.
You can string these lights through foliage, arrange them around shrub plants, or attach them to garden furniture as an easy way to upgrade the appearance.
This is a great option for those who want to turn their garden into a hub for entertaining on summer nights as it easily adds illumination and colour to your backyard.
Even if you do not have a lot of experience with landscaping, installing a path through the backyard or across the lawn is actually quite easy. This can be done using old bricks to create a small, winding path through your backyard.
You can make the path mirror the shape of your flowerbeds and accessorise the pathway with planters full of bright flowers or other plants.
Installing brand new paving into your backyard can be an expensive feat, but you can do it yourself for little cost using materials like old bricks.
On a similar note, gravel is a cheap and easy way to create paving in your backyard.
Gravel can be bought for a small percentage of the cost of traditional paving, and you can install it yourself with little landscaping experience. To install gravel, simply scrape away loose soil and foliage then pin down a permeable membrane. On top of this membrane, you will want to add the gravel, and you could choose as much as you desire.
The standard depth is around 2.5cm for gravel. A large bag, which is available for a percentage of the cost of paving, with cover 20 square metres.
Give your garden a new purpose by installing a vegetable garden. Even the smallest outdoor space can benefit from a container full of vegetables which you can grow for next to no money.
All you need for this step is a container of sorts or several planters. Some people find it easier to give up some of their yard lawn for a larger vegetable garden, but this does require some landscaping work.
You could take an old container, such as a wheelbarrow or a range of pots to plant vegetables in. This is a fun way to become more sustainable and can help you save money in the long run too by having your own produce on hand.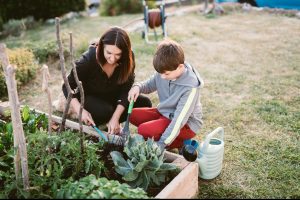 It is likely that your shed is being neglected at the moment. We all seem to have these structures in our garden but rarely use them.
This is why some of the best garden ideas focus on the shed and what can be done with it.
You could put your shed to better use by clearing it out and turning it into a summer home. This is one of the cheapest things to do, as instead of buying new things you are actually getting rid of what you already own.
Upgrade the outside of your shed with a cheap coating of paint, and if you want it to stand out, you can make it a bright colour. Add planting around the outside and add a comfy old chair, some second-hand shelving and smaller planters to the inside to create a cosy summer house just for you.
Some people have given their sheds a complete makeover and transformed them into their own outdoor pub, which is a good idea for those who like to socialise on a budget.
Look through an image board of inspiration online to see which will be the perfect shed for your backyard.
It is possible to give your garden a makeover while working with a very small budget and with limited landscaping skills.
As you can see from this article and the image list, very little is required to brighten up your garden and make it seem like a new space. Whether you choose to focus on planting, lights, painting or upcycling the options are endless when you add some creativity into it.
These garden ideas will allow you to make a cheap garden that is perfect for entertaining or relaxing, whatever it is you need, simply using budget materials. These are good ideas that are easy to do and can make such a difference to your garden.
At Garden Furniture Outlet we have some great garden ideas and quality products for sale. Continue to research online for innovative ideas and DIYs, and please share your ideas with us.